Talent development

Although Lactalis is global in scale, our focus is very much local. Our community ties reflect what we do: milk is a fragile raw material that dislikes being transported. Therefore, our creameries and dairies are located in dairy heartlands.
The Group builds trusted relationships with the men and women who maintain dairy expertise. That is why we entrust the management of our activities to locally recruited talents. Lactalis strives to foster employment in rural areas, particularly amongst young people, and offer attractive career opportunities and prospects in an inclusive environment and buoyant industry.
Staying true to the Group's history and culture, we approach our growth as a sustainable development driver for our employees and the communities where we operate.
We included the development of People and Places in our CSR policy as they make Lactalis what it is. The Lactalis Experience reflects the Group's pledge to its 85,500 employees: growing within teams who are passionate about what they do and recognized for their expertise, and who develop the brands customers know and love. It also enables them to take pride and pleasure in what they do day after day. More broadly, our 270 production sites and commitment to working closely with our 530,000 partner farmers and suppliers contribute to revitalizing rural areas around the world.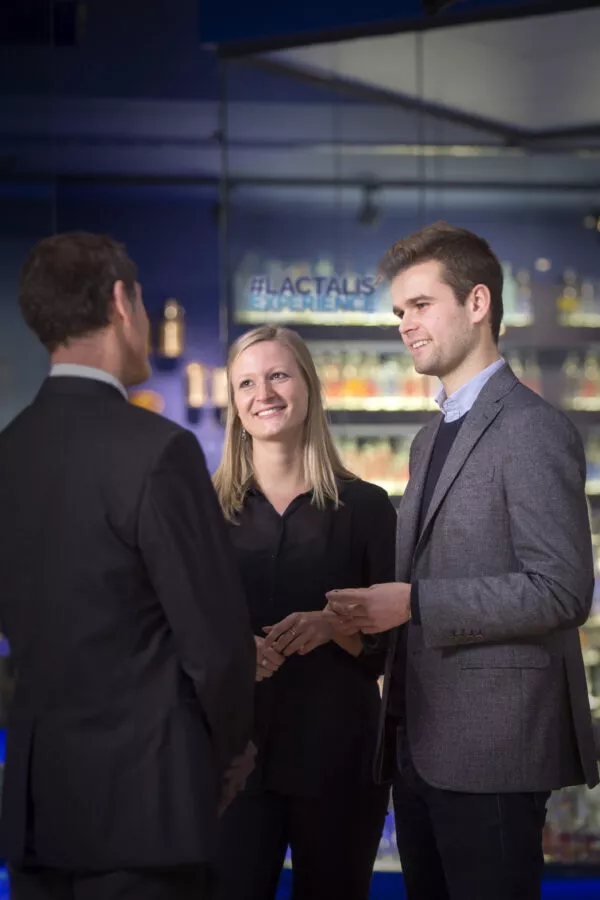 RECRUITMENT, RETENTION AND TALENT DEVELOPMENT
The 'Lactalis Trust in its People' roadmap launched in 2019 records the Group's commitments in the areas of recruitment, internal mobility and training. Staying true to our local conception of development, we have formed a network of in-house trainers (2,120 in 2020*) to share our knowledge and expertise and upskill all our employees. We develop and extend specific technical training programmes to new countries, like our Industrial Academy, Cheese Academy and Maintenance Academy. Lactalis works on its attractiveness as an employer to highlight, as early as the recruitment phase, the benefits of the Lactalis Experience rolled out internationally in 2021.